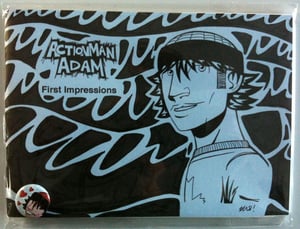 $

10.00
44 pages of fresh ActionMan Adam stories. First impressions collects most of the first years worth of online comics. It's a good starting point for the new reader, and a welcome addition to those who are already familiar with Adam's world.
Every comic sold comes packed with a button and two stickers.
Only 46 copies have been printed, making this run very limited. Each and every cover has been hand customised to make each comic completely unique.
To pick a design you like, please visit here. The description of each cover will let you know if that cover has been sold or not. Note down the cover number you want and notify me using the "contact" button on this page before checkout. I will confirm with you via email to let you know your cover has been reserved, and you may return to this page to buy the comic.
Reserved comics will be held for 24 hours. If the order is not completed, the comic will return to an available status.
Covers will be on a first come, first serve basis. To be safe, list down an alternative cover, in case your preferred choice of cover is unavailable.
If you have no cover preference. A random cover will be picked for you.
*Please note, the picture above is indicative of just one of the covers - all covers are unique*