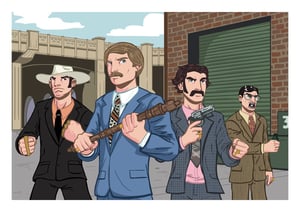 $

10.00
Ron Burgandy. Brian Fantana. Champ Kind, and Brick Tamland. The Legendary Channel 4 News Team from San Diego are preparing to showdown against their rival networks.
You love lamp too, right? Sure you do. Prove you can stay classy and buy this print.
Your choice of A4 or A3 (low stock), on a photo matte finish, and is signed by the artist (aka me).